Who doesn't want to keep the wood edges round? Well, they are preferred over sharp edges in every field of view.
With round edges, your woodwork will be more satisfying, and you won't have to worry about accidental damage. Moreover, you won't need to place any padding on the corners to keep your children, pets, and other family members safe.
But when it comes to rounding the wood edges, everyone talks about a router. Indeed, routers are excellent and can equip you with better wood rounding results in less time with minimum effort. But do you have a high budget to buy a router?
Like most of us, your answer might be NO! Routers aren't easily affordable for all of us. Then, can we get round wood edges without a router?
The quick answer to this question is "YES." Now, you might be thinking, "How to round wood edges without a router?" Well, we've read your mind, and that's why we are going to explain all the useful and accurate methods that can help you to get round wood edges at home.
Let's see what we have got for you!
How to Round Edges of Wood Without Router?
To know the nitty-gritty of rounding edges of wood without the use of a router is a bit tricky and demands full concentration. Before embarking on the methods and steps of accomplishing this rounding process, you must have all the required items to do the trick.
Necessary Tools and Materials to Round Wood Edges
Regardless of your crafting level, good woodworking work could only be obtained by using the right set of tools.
Don't worry about spending too much on these tools as almost all of them are more likely to be in your possession.
Although there are lots of methods to round wood edges without a router, almost all methods require things from the below-mentioned list.
Methods of Rounding Wood Edges Without Router
Now if we don't really want to use a router then "How to round wood edges without a router?"
Honestly, this isn't a big deal to round wood edges without a router. To perfectly accomplish this task, we came up with four handy ways to do the right trick for you.
Method#1: Round the Edges of the Wood with Sandpaper
This is the easiest way of rounding wood edges at the cost of more precision. This method is actually beneficial when you need to cut down sharp edges. More clearly, you can say that this method won't offer you deep round edges.
But if you need to get something more than just trimming the sharp edges, then try to use the sanding block which allows you to put a bit more pressure on the edges. Follow the following steps to successfully proceed with this method.
Place the sanding block along the length of the edges
Move or rub it over the wood at around a 45-degree angle
Once you reach close to your desired results, place the sandpaper on the palm of your hand and slightly round the edges.
Remember to perfectly bend your hands on the sandpaper to perform accurate contouring to get a perfectly round shape.
Clean the edges and check your work!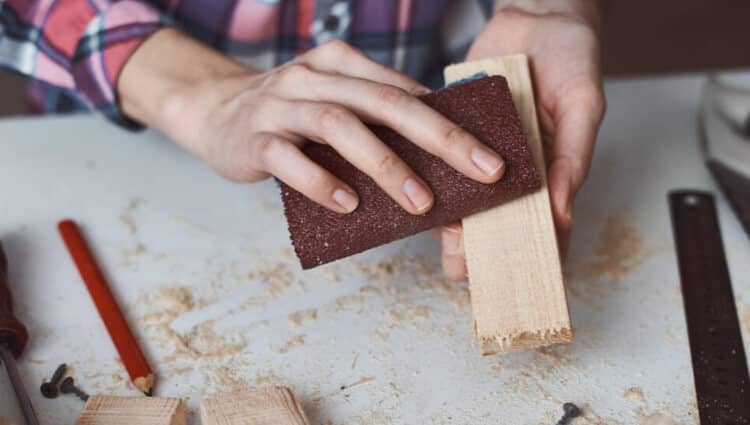 Method#2: Round Wood Edges with Wood File
Do you want to round wood corners by hand? It's possible now with the help of a wood file. You will find this method really easy, safe, and interesting. Plus, you need only medium-level strength to make your job done.
Before embarking on steps, keep in mind that this method is pretty excellent for getting only a smaller radius. Let's discuss the steps of how you can perform this method with maximum perfection.
Make or get a template of the desired shape which you want to achieve and place it on the woodwork you want to round.
Grab an erasable pencil and mark the edges you want to round by taking help from the template.
Now hold a saw and cut off all the excess wood. Here you need to cut the maximum wood to reach the marked place.
Next, it's your turn to use the wood file which you required to grind the edges.
Clasp the wood file in your hand and start rubbing it finely against the edges.
Don't work in a hurry, slowly continue the procedure until you get your desired shape.
To achieve an excellent finish, carefully rub the sandpaper on the edges to get a smooth round edge.
If you don't have sandpaper, you can also use the file. But try to rub it very slowly as it can speedily cut the wood.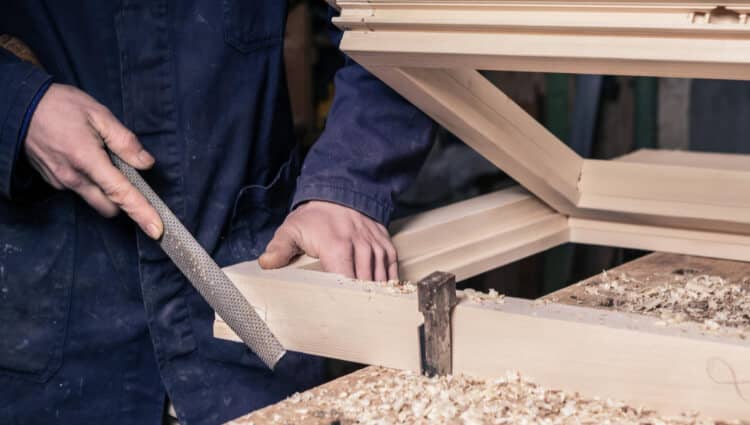 Method#3: Round Wood Edges with a Chisel
The chisel is one of the favourite tools of woodworkers. But keep in mind that this tool isn't easy to use by beginners. Follow this method only if you are a skilled and experienced woodworker.
Finally, if you have the desired strength and precision to adopt this method, let's discuss the steps which you need to make your job done.
Firstly, use the template plate to mark the exact shape which you want to achieve at the edges.
Carefully, cut away the extra wood with a saw, to reach near the marked lines.
Now, use your chisel vertically to cut down the round edges.
Remember to slowly move the chisel, otherwise, you will end up with flaws.
After getting the desired shape, use sandpaper to get a final, decent finish.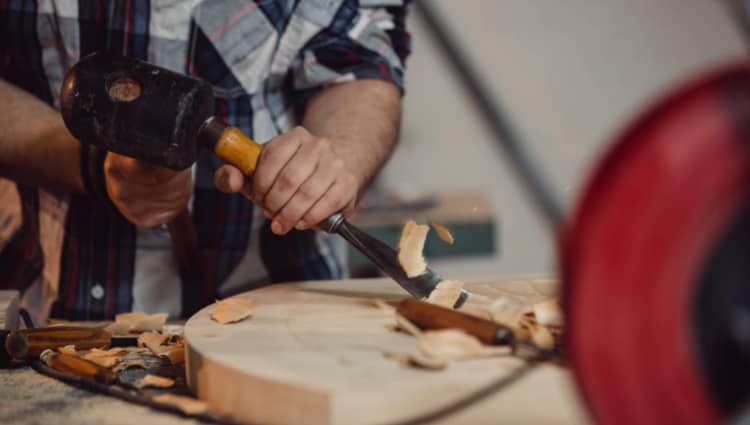 Method#4: Round Wood Edges with a Jigsaw
Using a jigsaw is another method to round wood edges without a router.

We can round large or small wood edges very smoothly with the help of jigsaw blades which are normally very sharp.

But using a jigsaw for round wood edges is only recommended for skilled people and is not suitable for beginners.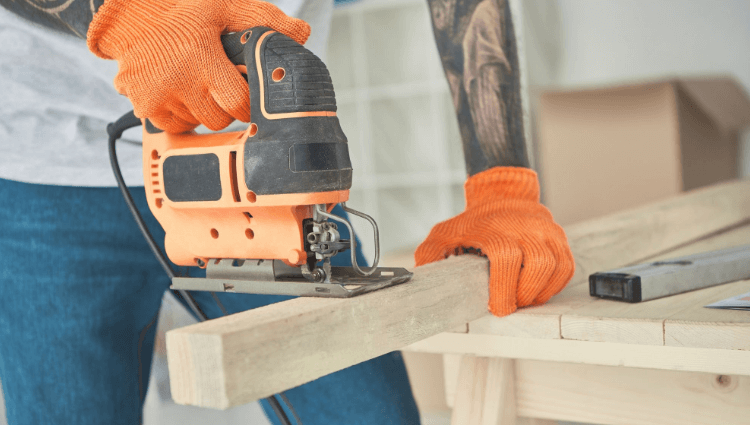 Read also How to cut a 60 degree angle on a table saw
Method#5: Round Wood Edges Using Hand Plane
If you want to get extra, deep round edges, then this method is going to suit you best. Stunningly, a hand plane tool is widely more effective for removing wood than any other discussed method. Moreover, this method doesn't require any special skills or experience, so it is better suited for novices.
Let's see how to proceed with the hand plane to get perfectly rounded edges.
Grab a plane and keep it at a 45-degree angle to the edge.
Now slide it along the whole cutting area length.
Perfectly change the tilt according to the roundness you want to achieve.
Repeat the same process until you get desired round edges.
Finally, use sandpaper to clean the surface and to get an excellent final finish.
Buy Hand Plane from Amazon.com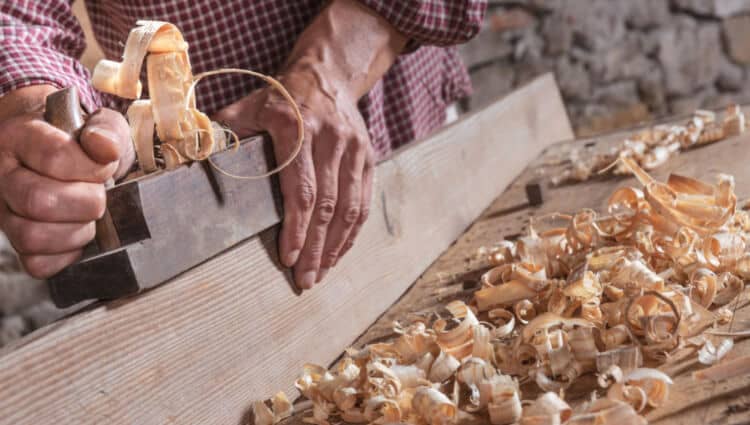 Most people think that round wood edges aren't necessary. But you will be amazed by seeing the benefits of round wood edges. Well, there are lots of reasons why you need to round wood edges.
Why do you need to round the edges of the wood?
The very first and shortest reason is protection. We know well that sharp wood edges can pose certain dangers to kids, pets, and even adults.
The second major reason is that the shard edges of furniture could be easily damaged while moving it from one place to another.
The third and most loved reason is the beauty of your furniture. Believe it or not, rounded edges look more beautiful than sharp ones.
Another stunning reason is that paint can excellently stick to round edges, compared to sharp edges.
The last and very deadly reason is that uneven or unrounded edges could be easily chipped off.
Keeping a long story short, round edges are more durable and amazing than sharp edges. So, now you must learn how to round wood edges without a router.
Is it Worthy to Round Wood Edges by Hand Without a Router?
Most workers prefer a router to round the wood edges perfectly on a clear surface. Unquestionably, a router can excellently assist with woodworking work and they are real game-changers regarding speed boosts. But there exists a problem with the router.
And that's the price range! Everyone can't afford a router as the good models are too pricey. Whilst, the low-grade affordable routers aren't good enough to equip you with good work.
So, the trick is in rounding the wood corners without a router and yes that's possible and even more interesting and reliable. The rounded wood edges without a router will be equally durable and stylish. And you won't need any expensive tools or any special skills to perform this task.
Wrapping Up
On the final note, round wood edges are needed in everyone's home as furniture with sharp edges could be damaging and get chipped off quite easily. And the most famous and widely used way to round the wood edges is the router, which is excellent to offer perfect wood rounding with a speedy procedure.

But hopefully, you're here because you can't afford to buy an expensive router and cheap ones aren't functional. Then how to round wood edges without a router? Well, after reading our guide, you might never feel the need for a router to get perfect round edges on any kind of wood. Follow any described method to make your job done!

Kenneth Wafer is an aspiring woodworking expert from Los Angeles. He loves reading and writing about all the best woodworking tools and accessories available in the market.
He is a Finance professional and recently completed his foundation course from CFA Institute, USA.